STAINLESS STEEL NUTS, BOLTS, SCREWS
Hi, welcome to the website, we hope to have everything for your car and motorbike restoration. If we haven't got it we will look for it for you or have it made for you.
TO PLACE AN ORDER
Tel- 01636 636256.
We do not have a minimum order quantity, you can order 1 or 100, but we do have a minimum postage and packing charge of £4.50 per order.
Email
Surplusmpeters@aol.com
If you have any problems getting through by email, please telephone me.
Our new telephone number is - 01636 636256
POLISHED STAINLESS.
We are based in Newark, Nottinghamshire and were one of the first to offer polished stainless nuts, bolts, washers, self tappers etc. We don't buy them in we polish them ourselves so anything we sell can be polished. Small machine screws, self tappers, usually cost 10p extra on the prices shown, larger screws and hexagon heads cost from 20p to 30p extra.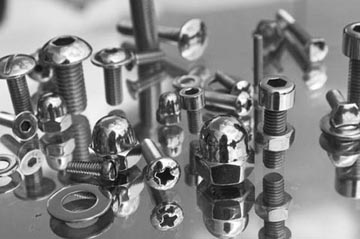 Michael Peters
Surplus Supplies
Shady Rest
Newark Road
Caunton
Newark
Notts
NG23 6AE
Tel: 01636 636256
Email
Surplusmpeters@aol.com
For all your car and motorbike
restorations
We started in the 1980s attending car and motorbike shows and autojumbles, and have been buying up old stock since then. Whether your vehicle is vintage, veteran or classic we can help. We also stock most other fastening in stainless steel -
washers, nuts, screws, self-tappers, split pins, R clips, hose clips, fuel line clips, socket grub screws, wing nuts, bumper(coach) bolts socket cap heads, socket button heads, socket countersunk, pozi and slotted heads in countersunk, raised countersunk and roundhead, fillister heads also cheese heads.
All can be polished if required.
All the old threads for cars and motorbikes - BSF, BSW (Whitworth), BSC (CYCLE), UNF, UNC are on stock. For the modern restorer we have a large and varied stock of Metric in stainless steel. These come in a variety of different heads and lengths. M7 (7mm) is available in stainless steel hexagon head bolts, setscrews and Allen headed screws with nuts, nylocs and washers. Metric fine nuts, bolts and socket cap screws are also in stock.
NEW best prices - 5/16 Cycle thread hexagon stainless setscrews (fully threaded). Cold forged in sizes - 1/2", 5/8", 3/4", 1", 1.1/4" and 1.1/2" long. Prices from 50p
In stock now are STAINLESS STEEL METRIC FINE M10 x 1.25 fine nylocs and M10 x 1.25 fine flange nuts.
Also in STAINLESS STEEL METRIC M7 (7mm) Hexagon setscrews and bolts in various lengths. M7 (7mm) stainless steel socket capscrews, Allen head screws in a range of lengths together with stainless steel nylocs, nuts and flange nuts in M7 (7mm).
STAINLESS STEEL METRIC M6 and M8 socket button heads with larger outside diameter than standard, as used on motorbike fairings.
We have large quantities of BA (British Association), zinc plated nuts and screws. Stainless steel nuts, screws and washers are available plus a variety of brass BA is available.
TO PLACE AND ORDER
Please telephone or email your order. Payment can be by credit card over the telephone or cheque by post.
POSTAGE AND PACKING
We have a minimum postage and packing of £4.50 per order. We are local to Newark and even if you are not we can post daily to everywhere in the UK and worldwide.
Overseas postage and packing, please enquire.
Our opening hours are 9 a.m. to 5 p.m. Monday to Friday for telephone enquiries - 01636 636256
We are closed Saturday and Sunday.
Stainless steel nuts, bolts and screws from Newark to anywhere in UK or worldwide.
WE NOW HAVE A NEW STOCK OF 2BA SLOTTED RAISED COUNTERSUNK MACHINE SCREWS. MOST SIZES UP TO 2" LONG.
GENUINE 7/16" HEAVY PATTERN WASHERS, NOT METRIC EQUIVALENT. THESE ARE A GOOD FIT AND NOT A SLOPPY METRIC FIT.
To e-mail me:
Surplusmpeters@aol.com
Telephone: 01636 636256